The UK's spring butterflies are being welcomed by enthusiasts, but weeks later than they usually arrive
.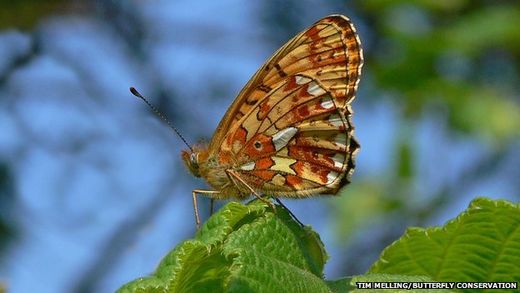 The second-coldest March on record contributed to the delayed emergence of many rare species
, according to the charity Butterfly Conservation.
"First sightings" recorded by the public showed the insects
typically appeared a fortnight later than normal.
One rare species - the grizzled skipper - emerged a month later than last year.
The pearl-bordered fritillary was another rare butterfly to make a late show. Last year the insects were first spotted on 1 April but were not recorded
until 27 April this year.
Threatened wood whites could be seen by 10 April last year,
but this year were delayed until early May.
And the Duke of Burgundy butterfly made an appearance in late April this spring, around three weeks later than last year.
Last spring saw butterflies emerging earlier than normal following an unusually mild February and March. But the extreme wet weather that followed resulted in a terrible year for most species.
Butterfly Conservation's findings, which focus on the UK's rare and threatened species, show a large contrast with last years' spring sightings.