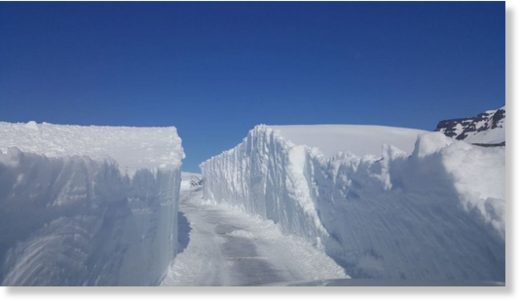 Summer may have officially started in Iceland on April 23, but you definitely couldn't tell from the weather in Mjóifjörður, East Iceland,
where authorities just spent four days digging a traversable roadway through snow walls of up to five meters [16 ft] in height.
RÚV
reports that the road into the village there has been more or less closed since October.
Fourteen people live in Brekkuþorp in Mjóifjörður year-round (up to 40 during the summer), and the village has its own church, school, tourist office, post service, and coffeehouse. Fishing and aquaculture are also local industries. There is only one road into the fjord, however, and given the immense amount of snowfall that it regularly receives, it is only possible to reach the village by sea during the winter.