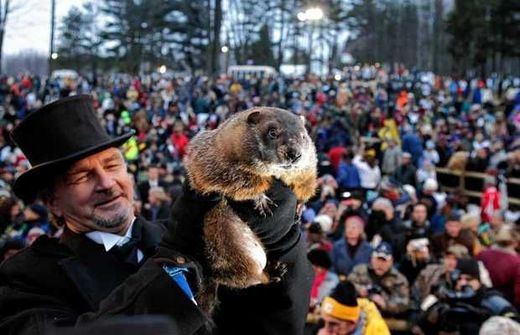 Punxsutawney Phil, a famed U.S. groundhog with an even more famous shadow, emerged from his burrow on Sunday and predicted six more weeks of winter, much to the chagrin of those hoping for an early spring.
The rotund rodent exited his subterranean residence at Gobblers Knob in the western Pennsylvania town of Punxsutawney around 7:30 a.m. on Groundhog Day.
The fuzzy forecaster made his appearance to the shouts of "groundhog," as eager spectators waited to see whether the groundhog - as the legend goes - would see his shadow and predict six more weeks of snow and freezing temperatures. If not, North Americans can expect an early spring.
This year, Phil predicted that winter will stretch on.
The annual Groundhog Day event, made more popular by the 1993 film comedy "Groundhog Day" starring Bill Murray, draws thousands of faithful followers from as far away as Australia and Russia.
Phil's forecast of six more weeks of winter was bittersweet for some in attendance.
"I happen to be a positive person, so I do embrace the here and now and I will enjoy the next six weeks of winter with the best attitude and be happy to be alive and healthy with my good friends," said Lori Weber, 54, a real estate broker from Sewickley, Pennsylvania.
Others came out early, braving drizzle and low-light, just to experience the event.
Carrie Juvan, 37, of Cleveland, Ohio came with her father.
"We are here having a blast because dad put it on his bucket list. I like snow but I am ready for the spring. He asked me about it months ago and I instantly said yes," she said.