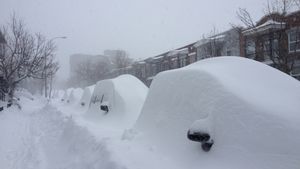 The City of Montreal said snow removal is going to take longer than expected following Thursday's record snowfall.
Michel Frenette, a spokesman for the city, said snow removal will take about nine days to accomplish.
The nine days also includes a break period for workers.
"We will stop operations on the evening of the 31st and come back 36 hours later on the morning of Jan. 2," said Frenette.
He said it is taking longer because snow blowers have to go over the same area multiple times to remove all of the snow.
Three thousand people are working to clear the snow.