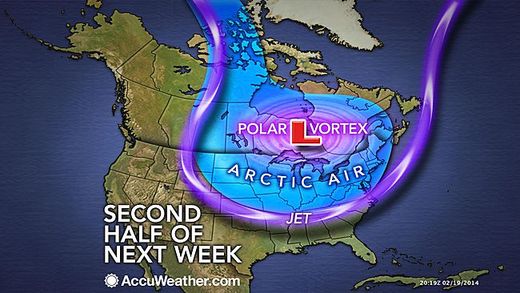 Consider the weather this week a mere pause in a tough winter that will resume next week with cold air and the potential for snowstorms.
Signs are pointing toward another southward dip from the polar vortex. The polar vortex is essentially a mass of very cold air that usually hangs out above the Arctic Circle and is contained by strong winds.
According to Long Range Expert Mark Paquette, "We noticed a minor Sudden Stratospheric Warming event taking place back on Feb. 6-7, 2014."
When sudden warming takes place high in the atmosphere, it initiates a chain of events that tends to displace the polar vortex between 14 and 30 days later.
"In addition to the exact timing of the cold outbreak is you never know for sure initially which continent the cold air will be directed," Paquette said, "This time it appears it will take aim at the eastern part of North America."