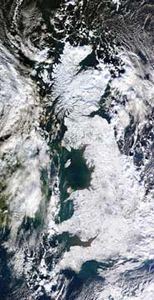 The death toll from Britain's biggest freeze for decades reached 22 today as the country prepared for its coldest night so far, bringing the promise of even more treacherous conditions.
Thousands of homes have been left without power, schools have closed and travellers have faced chaos as the weather hit roads, rail services and airports over the last two days. The disruption is estimated to have cost businesses around £700 million.
Councils continued to struggle with a growing salt emergency as police warned drivers in many areas not to travel unless their journey was essential.
The AA expect to have attended 20,000 breakdowns today - compared with about 9,000 for a normal Thursday - and warned that conditions were expected to remain "treacherous".
Meanwhile, the shutdown of an offshore Norwegian gasfield pushed Britain's gas infrastructure into emergency mode, forcing the closure of industrial companies in the north of England in order to preserve supplies to homes, shops and offices.
Although major airports stayed open, some air passengers had long waits for their flights, particularly at Gatwick, on the outskirts of south London, where more than 130 flights were cancelled. EasyJet had to axe more than 100 flights and British Airways was among other carriers that had to cancel some services.
The body of Philip Hughes, 45, from Slough, was recovered from beneath ice at the Lakeside Country Club in Surrey where he was watching the world darts championship. A spokesman said it appeared to have been a "tragic accident".