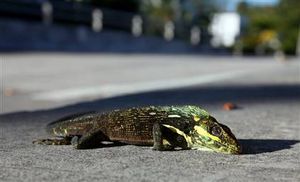 Tourist beachgoers wrap up as Arctic blast hits so-called Sunshine State
Across the so-called Sunshine State, oranges and strawberries are freezing, icicles are hanging off palm fronds, and iguanas paralyzed by the cold are falling out of trees.
Temperatures have plunged as low as the 20s in recent days, forcing people used to wearing flip-flops year-round to put on earmuffs.
"I am a warm-weather boy. There's no way I'm going out there," laughed Archie Adkins of Pensacola Beach as he pointed at bundled-up beachgoers.