Winter Storm Draco will continue to dump heavy snow and bring strong winds to the Upper Midwest through Thursday night. Blizzard warnings and winter storm warnings remain in effect for several states in the region. Significant travel disruption is likely. Draco initially brought heavy snow and wind to the West earlier this week before spreading across the Plains and Upper Midwest Wednesday into Thursday. As we close out the week, Draco will sweep through the East Coast with rain and wind while turning on the lake-effect snow machine in the Great Lakes. The warm side of Draco has resulted in
severe thunderstorms and tornado reports in the South.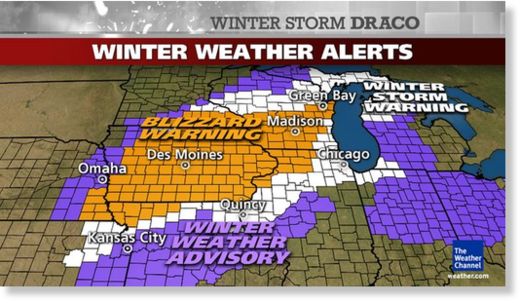 As Draco's low intensifies and swings northeastward across the Great Lakes through Thursday night, moderate to locally heavy snow or rain changing to snow is expected in parts of the upper-Mississippi Valley and Great Lakes, targeting Iowa, Wisconsin, northern Illinois, northern Missouri and northern Michigan.
Snowfall rates of 1 to 2 inches per hour are likely at times in the heaviest snow bands and you may hear some rumbles of thunder during the snowstorm as well. Storm total snowfall amounts of 6 to 12 inches (locally more than a foot) are expected in the heaviest snow swath from parts of Iowa to Wisconsin and northern Michigan.