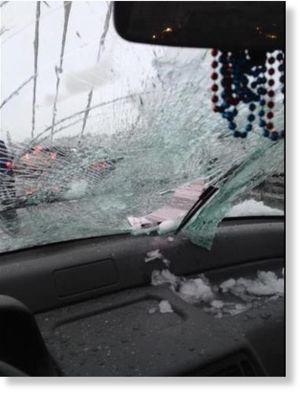 Canada, British Columbia - The head of the Crown corporation that built the Port Mann Bridge says the company is reviewing yesterday's
closure of the multi-billion-dollar span
after snow and ice fell from the bridge's support cables, injuring two people and damaging several vehicles.
Mike Proudfoot, the CEO of the Transportation Investment Corporation, admits the coating on the cables that was supposed to push snow away from the deck didn't work.
But, he says, Wednesday was an unusual day.
"This is an extreme weather situation,"
he said.
"It is very rare, especially in the Lower Mainland, but it does occur and it has had similar effects on other cable stay bridges in other jurisdictions ... Snow can accumulate on any structure over roadways and no bridge is immune to it but what we saw was a very unusual combination of winter conditions."
Proudfoot says engineers were sent to the bridge and the contractor has been asked to come up with plans to avoid such problems in the future.
The corporation says it will forgive the toll and pick up the insurance deductible for vehicles damaged on the bridge.