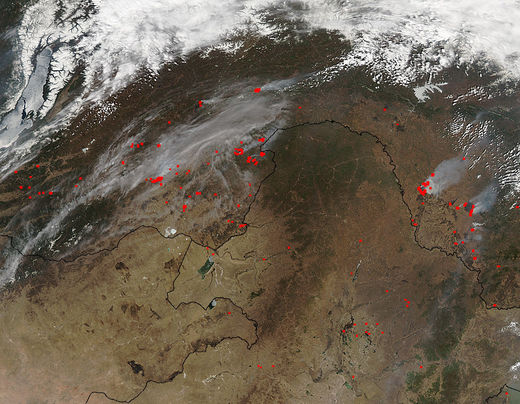 What we are currently witnessing is something that should never happen - an outbreak of fires with summer intensity during late April at a time when Siberia should still be frigid and frozen.
* * * * *
Last year, during late July and early August, a series of epic wildfires raged to the north and west of Russia's far eastern Amur region
.
About a week later, the skies opened up in a ten-day-long deluge that pushed the Amur River bordering Russia and China to levels not seen in the entire 150 year span of record-keeping for the region
. Whole cities were submerged as the Amur leapt its banks to form a kind of massive inland sea.
The floods promoted strong growth in the region, penetrating permafrost zones to enhance melt, providing major fuel sources for fires should they re-emerge. Come winter, a persistent warm ridge pattern in the Jet Stream transported hotter than usual air over this region. The winter was far, far warmer than it should have been. And when spring came, it came like the onset of summer.