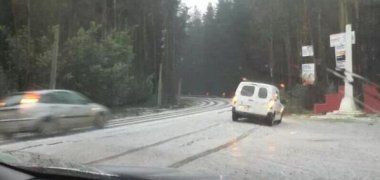 They see the snow as "an anomaly" rather than as the beginning of a new Ice Age.
Chile, 06-06-2014: The snow that fell on Route 90 at the entrance of Pichilemu during the afternoon on Friday was "unusual," said La Primera Compañía de Bomberos (the First Fire Company) on its Twitter account
The phenomenon not only surprised the transiting area, but also the Chilean Meteorological Office who listed the snowstorm as an "anomaly".
According to meteorologist Patricio Silva "we had expected snowfall above 1,000 meters, but not in the coastal zone".