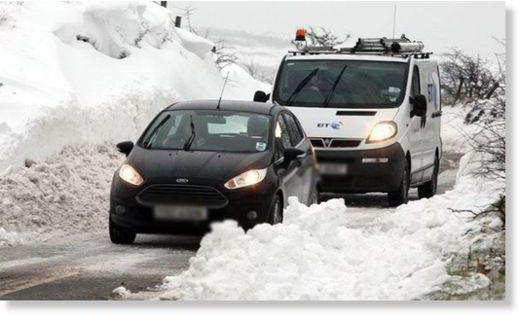 Heavy snow is expected over the next 36 hours as Britain shivers on the coldest March weekend for 50 years.
Up to 16ins will fall over high ground with several inches likely across much of the UK, the Met Office said last night.
Over 1,000 schools were shut and transport was disrupted as any hopes of spring were dashed by yet another onslaught of snow and flooding today as temperatures fell as low as -12C (10F).
Emergency services saw an early surge in weather-related call-outs as some parts of the country were hit by blizzard conditions. Government agencies issued a string of warnings urging the public to take care on the roads.
The South-west, which will escape the worst of the winter blast, faces flooding with up to 100mm of rain - almost two months' worth - over the next 24 hours as yesterday's heavy rain continues.
In total The Environment Agency issued 12 flood warnings tonight across the country and 81 less serious flood alerts.
In east Cornwall emergency services were searching for a missing woman her partially property collapsed during heavy rainfall overnight.