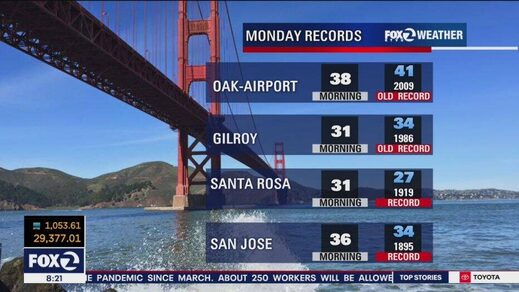 After months of searing temps and wildfires, a cold snap has finally arrived in California.
Back-to-back weekend storms on Friday and Sunday brought chilly temperatures, rain and snow to much of the state after months of hot weather that fueled enormous wildfires.
Case in point: A total of 18 inches of snow even blanketed Sierra-at-Tahoe ski resort, followed by 10 inches at Sugar Bowl over the weekend, prompting a travel advisory throughout the Sierra Nevada.
Daytime temperatures dipped to the high 50s and freeze warnings and frost advisories were issued for some inland valleys during overnight hours.
And on Monday, cold temperature records were set. It was 38 degrees at the Oakland Airport Monday morning, breaking a 2009 record when it was 41 degrees. Gilroy also set a record at 31 degrees on Monday, breaking a 1986 record when it was 34 degrees.