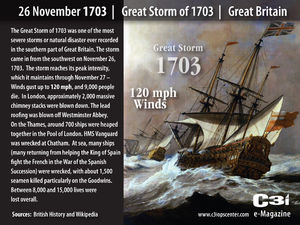 With the recent run of stormy weather in the UK, it is worth reflecting on just how stormy it was during the Little Ice Age, and even before.
Brian Fagan, in his book "
The Little Ice Age
", states that,"
throughout Europe, the years 1560-1600 were cooler and stormier, with late wine harvests and considerably stronger winds than those of the 20th Century. Storm activity increased by 85% in the second half of the 16th Century and the incidence of severe storms rose by 400%.".
HH Lamb comes to similar conclusions, "
there was a greater intensity, and a greater frequency, of intense storm development during the Little Ice Age",
in his book "
Historic Storms of the North Sea, British Isles and Northwest Europe
".
Edward Bryant, in the book,
"Natural Hazards
", gives us a rundown of some of the biggest storms.