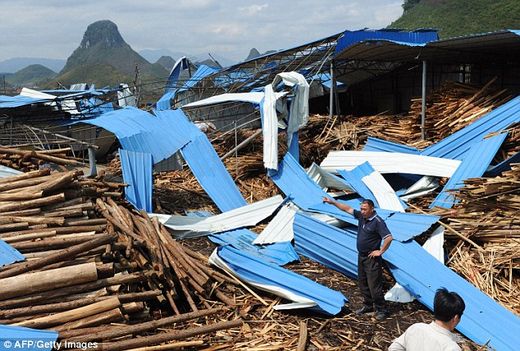 Heavy storms and giant hailstones have left at least 16 people dead and caused widespread property damage in southern China.
The poor weather has lasted more than a week, bringing landslides and flooding - particularly in the autonomous Guangxi province, which borders Vietnam.
Local authorities say at least 16 people have been killed, although that figure is likely to rise as the true extent of the devastation cannot be fully assessed until the poor weather subsides.
Yesterday the Civil Affairs Department of Guangxi said at least 70 houses had collapsed, with another 1,716 badly damaged, and more than 2,000 hectares of crops destroyed.
Local weather forecasts said heavy rain and hail is expected to continue to hit parts of Guangxi over the next few days, before subsiding in the latter half of this week.
Landslide and flood warnings are likely to remain in place well into next week.