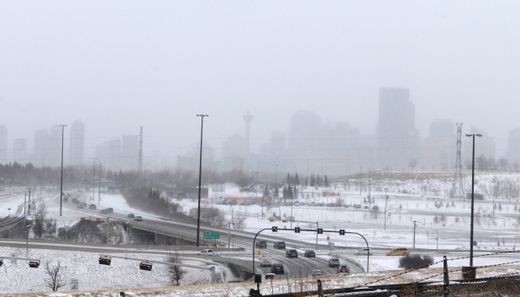 Winter weather brought frigid temperatures to Calgary on Saturday, with a little more snow expected to fall before the end of the night.
As blustery conditions dropped another layer of the white stuff on the city, police reported about 133 vehicle accidents by 7 p.m., six of which involving minor injuries, said Const. Stephen Vaney.
Outside of the city, meanwhile, the winter blast wreaked havoc on roads and highways, causing crashes and pileups.
A winter storm warning remained in effect for the Red Deer area, though Environment Canada ended its snow fall warning for Calgary, forecasting that about two centimetres would hit the city before the late evening. Temperatures dropped to nearly -13C, or -22 with the wind chill.
Earlier Saturday, havoc on roads and highways outside of Calgary kept emergency crews busy.
A 30-vehicle pileup near Crossfield on QE2 was caused after a semi-truck jackknifed and another crash closed lanes to travel for hours.
Stranded motorists were removed from the scene and some were taken to a Crossfield church to stay warm, police say.