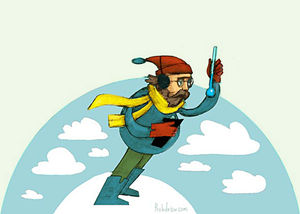 A cold snap is setting record low temperatures across the United States. Yes, it's very cold. But wind chill is not a useful way to describe the weather, as Daniel Engber explained in 2007. The original article is below.
If the weather makes headlines only when it's horrendous out, wind chill is its PR agent. This week, when temperatures in New York City dropped to single digits, newspapers and TV meteorologists breathlessly reported that the wind chill had hit
minus 11
. In
Ohio
, they told us, the thermometers read close to zero, but gusts of cold air made it feel like
25 below
. Banner stories proclaimed a
wind chill of 35 below in Chicago
.
The weathermen trot out these arctic, pumped-down numbers to put an exclamation point on the banality of winter. Wind chill readings make excitement out of mere inconvenience; they imbue a miserable day with the air of epic calamity. A temperature of 5 degrees is unpleasant. A wind chill of 20 below - well, that's something to talk about.