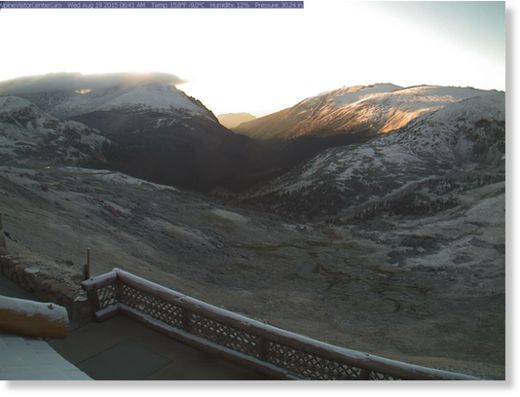 Autumn is in the air across Colorado on Wednesday as the high country received a light dusting of snow and Denver set a record low temperature.
A web cam at the Alpine Visitor Center at Rocky Mountain National Park showed the light snow dusting early Wednesday along Trail Ridge Road.
Eric Thaler, a meteorologist with the National Weather Service in Boulder, said it is likely the first measureable snow of the season in Colorado.
At Denver International Airport on Wednesday, the mercury dipped to 47 degrees,
marking a record low for Aug. 19 in the Mile High City.
The previous mark of 48 was set three times, in 2002, 1967 and 1960.
Denver weather forecasters call for a high of 72 degrees in Denver on Wednesday under mostly sunny skies.
"It's just going to be a nice, pleasant, Autumn-like day," Thaler said.