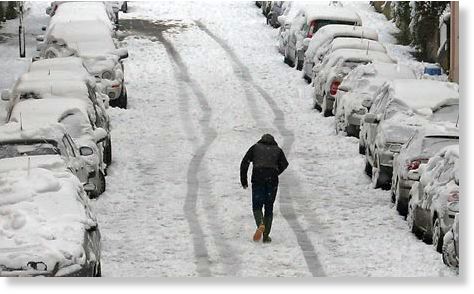 More flights cancelled, trains delayed and roads closed, and AA warns over drivers failing to clear snow from car roof.
Heavy snow brought its usual mixture of beauty, fun and serious disruption to most of the country on Monday as the cold front that turned southern England white on Sunday moved east and north.
Hundreds of schools were closed, disrupting some GCSE and AS-level exams, and there were cancellations and delays on roads, rail and in the air as bitterly cold winds added drifting to already deep falls and widespread ice.
Heathrow airport suffered worse disruption than expected with 175 flights cancelled by midday, well over the figure of 130 predicted earlier. Sunshine brought a rapid thaw but the total later crept close to the 260 cancellations of Sunday. The airport blamed poor visibility.
Gatwick and Birmingham airports were also badly disrupted and East Midlands and Robin Hood airports were closed to flights.