Snow will bring central Germany an early taste of winter into Wednesday morning.
After a cool Tuesday unfolded, the stage was set for rain to change to snow at night as a storm system dropped southward and pulled down even colder air into Germany.
The snow will fall in between Berlin and Munich, focusing on the corridor from Trier to Frankfurt to Kassel to the mountains along border of the Czech Republic before tapering off Wednesday morning, mixing back with rain in some cases.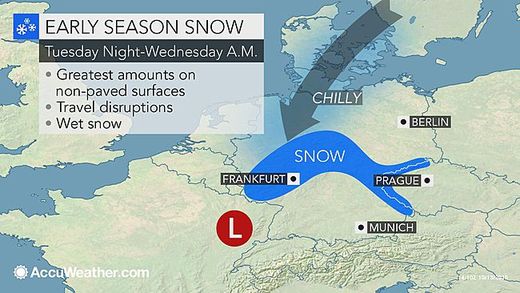 Fritzlar should also see snow, marking the earliest such occurrence in October since Oct. 5, 1994, according to AccuWeather Meteorologist Tyler Roys.
As is typical in early (and late) season snowfall events, amounts and impacts will be dependent on both elevation and snowfall intensity. Snow totals at any given location will be greatest on non-paved surfaces than paved surfaces, which retain more of the sun's warmth and are slower to cool.
The snow is expected to accumulate 5 to 10 cm (2 to 4 inches) in the colder highest elevations. While some melting will initially occur on the roads, that amount of snow will eventually lead to slippery and slushy travel.