Information gleaned from a Greenland ice core by an international science team shows that two huge Northern Hemisphere temperature spikes prior to the close of the last ice age some 11,500 years ago were tied to fundamental shifts in atmospheric circulation.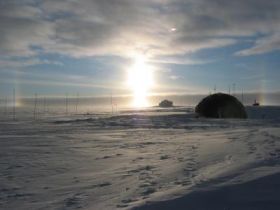 ©NGRIP
The North Greenland Ice Core Project camp.
The ice core showed the Northern Hemisphere briefly emerged from the last ice age some 14,700 years ago with a 22-degree-Fahrenheit spike in just 50 years, then plunged back into icy conditions before abruptly warming again about 11,700 years ago. Startlingly, the Greenland ice core evidence showed that a massive "reorganization" of atmospheric circulation in the Northern Hemisphere coincided with each temperature spurt, with each reorganization taking just one or two years, said the study authors.
The new findings are expected to help scientists improve existing computer models for predicting future climate change as increasing anthropogenic greenhouse gases in the atmosphere drive up Earth's temperatures globally.
The team used changes in dust levels and stable water isotopes in the annual ice layers of the two-mile-long Greenland ice core, which was hauled from the massive ice sheet between 1998 to 2004, to chart past temperature and precipitation swings. Their paper was published in the June 19 issue of
Science Express
, the online version of
Science
.