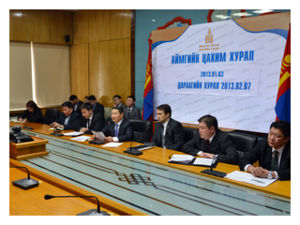 Administrators of Khovd, Uvs, Zavkhan, Khuvsgul and Dundgovi Provinces voiced their concerns about the harsh winter conditions to the Prime Minister, N. Altankhuyag, and other government staff at a video conference on Thursday.
The provincial governors participating in the video-conference remarked that as the depth of the snow has increased, most of the provinces have begun to use the hay and fodder from the state reserve and this is costly. They claim that herders will be in a very problematic situation unless the government finds a way to reduce the price of the state reserve of hay and fodder.
The Governor of Govi-Altai Province noted that Govi-Altai is planning to start using the state reserve from February 10, as it has saved enough reserve itself.
The directors of the National Emergency Management Agency (NEMA) and the National Agency for Meteorology, Hydrology and Environment Monitoring participated in the video-conference and described the recent weather trends and the conditions in the provinces. Some provinces are experiencing alarming conditions.