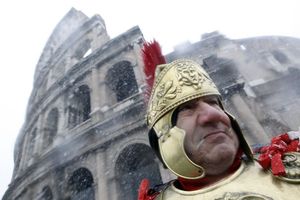 Russia and Ukraine took extra precautions on Friday to protect homeless people during a brutal cold snap, ordering new facilities and medical care after scores of people have frozen to death on the streets of Europe.
As the death toll from the past week rose to at least 175 on Friday, Russian Emergencies Minister Sergei Shoigu ordered the creation of facilities nationwide to feed and provide medical assistance to the homeless.
The week-long freeze - Eastern Europe's worst in decades - is causing power outages, frozen water pipes and widespread closure of schools, nurseries, airports and bus routes.
Other parts of Europe experienced frigid temperatures unseen in years. A roundup: