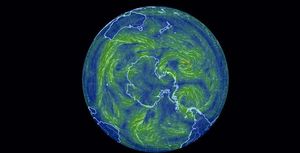 Winds in the wild Southern Ocean are blowing at their strongest in a millennia as climate change shifts weather patterns, leaving Antarctica colder and Australia facing more droughts, a study showed Monday.
Rising carbon dioxide levels in the atmosphere were strengthening the winds, already dubbed the "Roaring Forties" for their ferocity, and pushing them further south towards Antarctica, researchers from the Australian National University (ANU) said.
"
The Southern Ocean winds are now stronger than at any other time in the past 1,000 years
," said the study's lead researcher Nerilie Abram of an ocean notorious for having some of the fiercest winds and largest waves on the planet.
"The
strengthening of these winds has been particularly prominent over the past 70 years
, and by combining our observations with climate models we can clearly link this to rising greenhouse gas levels."
The new research, which was published in the Nature Climate Change journal, explains why Antarctica is not warming as much as other continents.