As summertime draws to a close across the country, a snowstorm has hit parts of Wyoming dumping up to 20 inches of snow. The freak summer snowstorm hit parts of Wyoming, South Dakota, Montana and Colorado and left a blanket of snow on the ground as temperatures plummeted to 20 degrees Fahrenheit.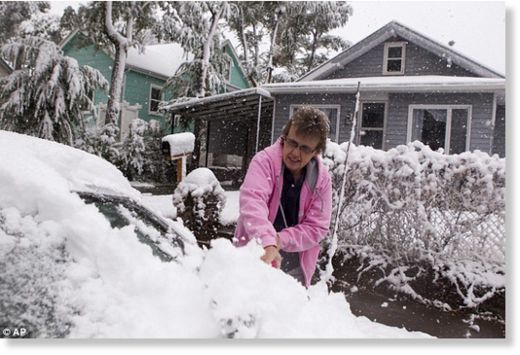 Children took full advantage of the unseasonably cold weather building snowmen in the local park and amusing themselves by pelting each other with snowballs. Forecasters said that the storm was heaviest on Wednesday and Thursday.
Meanwhile, much of northern Wyoming received early-season snow on Thursday, ranging from flurries at lower elevations to as much as 10 inches in mountain areas. Big Horn Mountains, the town of Buffalo saw as much as 10 inches and Custer, South Dakota was blanketed with up to eight inches. Up to 3 to 5 inches fell in Cody, the earliest recorded snowfall there since records were kept in 1915.
Some roads and highways were slippery on Friday morning, but travel was not hampered in Wyoming. However, the heavy wet snow did snap off tree branches and cause some power outages in Buffalo.
Additional images