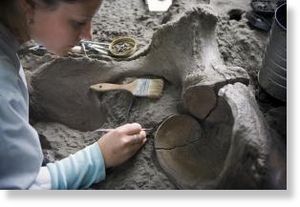 The Page Museum at the La Brea Tar Pits, part of the Natural History Museum of Los Angeles County family of museums, has announced an endeavor of discovery and research so enormous that it could potentially rewrite the scientific account of the world-famous La Brea Tar Pits and their surrounding area - one of the richest sources of life in the last Ice Age, approximately 40,000 to 10,000 years ago.
Project 23: New Discoveries at Rancho La Brea, undertaken in the heart of urban Los Angeles, has to date uncovered over 700 measured specimens including a large pre-historic American Lion skull, lion bones, dire wolves, saber-toothed cats, juvenile horse and bison, teratorn, coyotes, lynx, and ground sloths. Most rare of all is a well-preserved male Columbian mammoth fossil, about 80% complete, with 10-feet long intact tusks found in an ancient river bed near the other discoveries. This latter fossil is the first complete individual mammoth to have been found in Rancho La Brea. In recognition of the importance of the find, paleontologists at the Page Museum have nicknamed the mammoth "Zed."
"The name signifies the beginning of a new era of research and discovery," according to Dr. John Harris, Chief Curator, Page Museum at the La Brea Tar Pits. "Zed is a symbol of the potential of Project 23 to revolutionize our knowledge about this area."