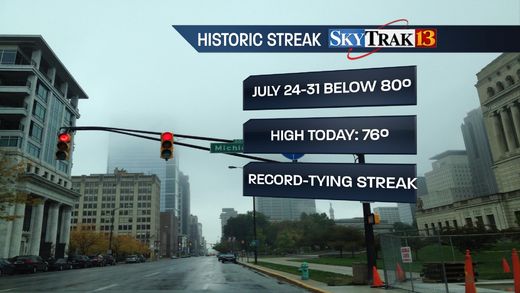 July 2014 will go into the record books as the coldest July since records began in Indianapolis.
Temperatures will stay slightly below normal Thursday, putting the monthly average at 70.1 degrees. That's 0.5 degrees cooler than the previous July low of 70.6, set in 1947. Indianapolis has not even topped 90 degrees so far this year.
"The warmest day of 88 degrees (in July) is also the warmest temperature we've had so far this year," said StormTeam 6 meteorologist Todd Klaassen.In an average July, Indianapolis' temperature is 75.4 degrees. The record-low temperatures this July come two years after Indianapolis set a heat record.
In July 2012, the average temperature in Indianapolis was 84.0 degrees, shattering a record set in 1936. July 2011 was also toasty, with the average that month at 82.0 degrees, ranking it as the third-warmest July on record in Indianapolis. July 2009 was another cool month in Indianapolis, with the average temperature of 70.9, chilly enough for third place in the record books.