There is a huge event being forecasted this year by the CFSV2, and I don't know if anyone else is mentioning this. For the first time in over a decade, the Arctic sea ice anomaly in the
summer
is forecast to be near or above normal for a time! While it has approached the normals at the end of the winter season a couple of times because of new ice growth, this signals something completely different - that multiyear growth means business - and it shows the theory on the Atlantic Multidecadal Oscillation (AMO) is likely to be on target.
Once it flips, this red herring of climate panic will be gone. Global and Southern Hemisphere anomalies are already unmentionable since the former is well above normal and the latter is routinely busting daily records.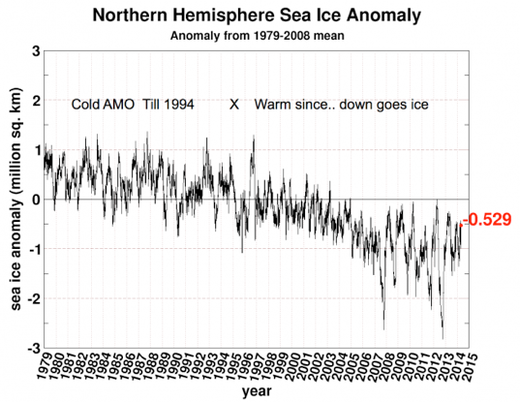 The biggest minimum anomalies are in the summer since this flipped, and the only peaks came very close to the height of winters once this melting was underway.
Now look at what the CFSV2 forecasted for 2012.