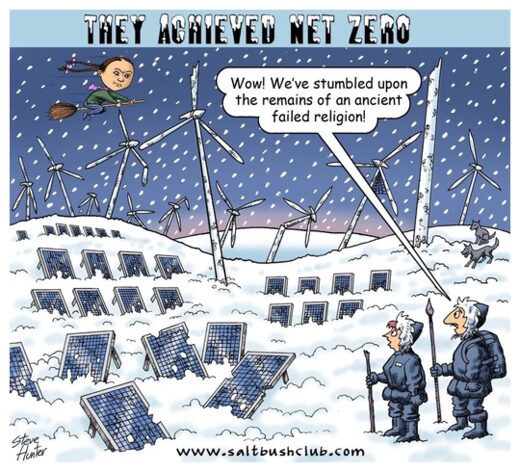 According to the clerics of the Green Cult, once we blow up our last coal mine, send all diesel engines to the wreckers, stop using concrete, reinvent sailing clippers, cover the grasslands and hills with solar clutter and wind machines, and then slaughter all of our cattle... global climate will become serene - not too warm, not too cold.
Wild weather will cease, and there will be no more droughts, floods, cyclones, or snowstorms and no more plant and animal extinctions.
But the records written in the rocks tell a far different story about climate changes.
Even when
nature was in full control,
it was not a serene place.
Long before the first steam engine puffed along the first railway, the Earth was periodically battered by natural disasters - earthquakes, tidal waves, pole shifts, magnetic reversals, volcanic eruptions, wild weather, and droughts.
Huge areas were covered by suffocating continents of ice, desert sands, massive flows of mud and lava, beds of salt, and thick coal seams. Thousands of species disappeared including dinosaurs, mammoths, and Australia's megafauna.
Modern humans are not immune to the threat of extinction, but it will not come from today's warm, moist atmosphere or from the gas of life, carbon dioxide.
It will probably come from the
next glacial climate cycle of this era
, where long bitter glacial eras are separated by short warm periods. These global weather cycles are triggered by
changing orbits in the solar system
.