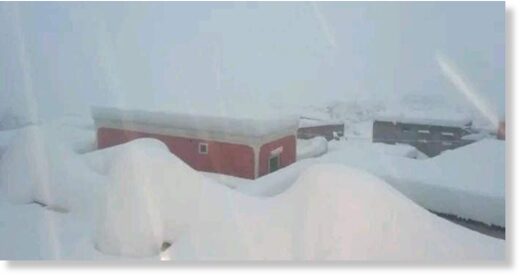 The southeast of Morocco has been experiencing an unprecedented snowstorm since this weekend that has left 24,000 families in need of assistance and 87 isolated villages in the region of Ouarzazate and Zagora, which the authorities hope to access by Monday after having already unblocked most of them.
The Mohamed V Foundation for Solidarity has in recent days provided humanitarian assistance (food and blankets) to 9,000 families affected by the storm in the region of Ouarzazate,
where snowfall reached 2.2 metres,
10,000 families in Taroudant and 5,000 in Zagora.
"The authorities' interventions in this area are progressing at a good pace despite the bad weather conditions," Sanae Berdikh, the Foundation's communications director, told EFE on Monday. Berdikh explained that during the intervention of the Moroccan troops they managed to evacuate by helicopter on Sunday morning a woman about to give birth who was trapped in a village in the area where the road was cut off. Both are in good condition in the provincial hospital. "An airlift has been set up between the airports of Casablanca, Ouarzazate, Zagora and Agadir with 20 rotations this weekend to bring humanitarian aid teams to the people affected," she said.