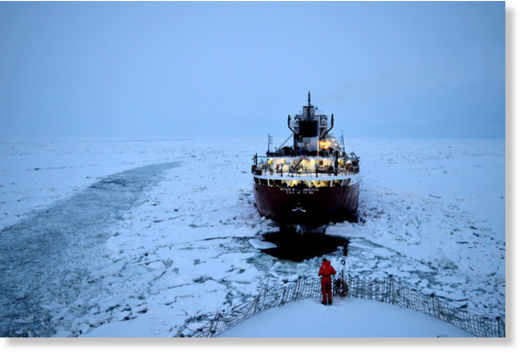 The trip to pick up a load of iron ore powder in Conneaut, Ohio, was supposed to take four days by way of the Great Lakes.
But within sight of its destination, the cargo ship, the Arthur M. Anderson, got trapped in ice. Two heavy icebreakers from the Canadian Coast Guard eventually broke the vessel free.
It was a 24-day ordeal, and the ship returned to its home port in Wisconsin without picking up the cargo.
A deep freeze this winter left much of the Great Lakes blanketed in thick ice, sidelining the ship lines and companies that move vast amounts of grain, cement and other commodities through this system of waterways. And now the spring thaw, which creates piles of impassable ice, will most likely create more delays.
"There's a lot of ice out there, and we need to understand the impact of that ice," said Mark Barker, the president of the Interlake Steamship Company, which carries mostly iron ore, coal and limestone on its nine ships.
"Last year, we pretty much lost the month of April."