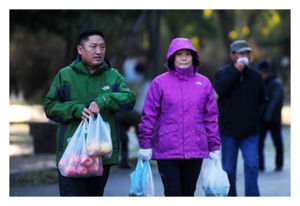 Beijing -- China's central and eastern regions will experience temperature drops in coming days, while the southern parts will receive moderate to heavy rain, the national meteorological watchdog forecast Sunday.
Strong wind will make temperatures in northeastern regions fall by six to ten degrees Celsius on Sunday. A blast of cold air is forecast to sweep across the central and eastern parts from Monday, the National Meteorological Center said on its website.
The center also forecast that fog will shroud parts of Hubei, Jiangsu and Anhui provinces on Sunday morning, reducing visibility to less than 1,000 meters.
Over the next three days, parts of South China will see moderate to heavy rain, and some regions may experience torrential rain, the center said.
Son-Tinh, the 23rd tropical storm of the year, strengthened to a super-typhoon on Saturday night and was located 260 km southeast of Vietnam's Thanh Hoa at 5 a.m. Sunday.
Son-Tinh is expected to move northwestward at a speed of 10 to 15 km per hour and make landfall in Vietnam's northern coastal regions on Sunday night, the center said.