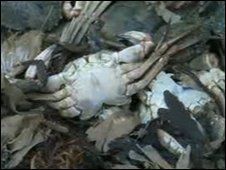 Thousands of dead crabs have been washed up on Kent's beaches after being killed by the cold weather.
The velvet swimming crabs are littering beaches around Thanet, along with smaller numbers of whelks, sponges and anemones.
It is the second year that icy temperatures have killed off the sea creatures in such large numbers.
Last year the Environment Agency set up an inquiry amid fears a mystery virus could be to blame.