New England blizzard: Forecasters are predicting more than 2 feet of snow in New England, and blizzard conditions, including high winds, blowing snow, and coastal flooding. A major winter storm heading toward
New England
may not be one for the record books, but even some of the nation's snow-hardiest people should proceed with caution, according to at least one expert.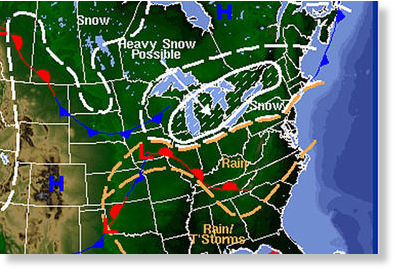 As much as 2 feet of snow could fall on a region that has seen mostly bare ground this winter, the
National Weather Service
said. That's exciting for resort operators who haven't had much snow this year.
The storm would hit just after the 35th anniversary of the historic blizzard of 1978, which paralyzed the region with more than 2 feet of snow and hurricane force winds from Feb. 5-7.
"This has the potential for being a dangerous storm, especially for
Massachusetts
into northeast
Connecticut
and up into
Maine
," said Louis Uccellini, director of the weather agency's
National Centers for Environmental Prediction
.