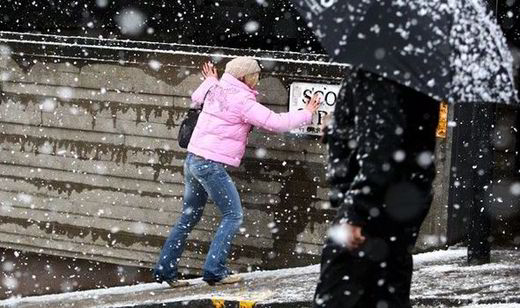 The mercury is set to plunge below -10C (14F) in parts with wintry showers poised to hit huge swathes of the UK.
Forecasters warned that a mass of bitterly cold air from the Arctic is set to smother the country.
Up to four inches of snow will carpet parts of the North while the first flurries are expected in central and southern regions.
The bleak news comes as long-range forecasters warn that Britain could be crippled by a "record-breaking and historical" big freeze this winter. Prolonged cold weather and relentless heavy snowfall threaten to grind the country to a halt until the beginning of spring.
Remote parts of the North - including the Cairngorm mountains in Scotland - could see the mercury plummet as low as -15C next Tuesday.
Jonathan Powell, forecaster for Vantage Weather Services, said the worst weather is due to hit during the middle of next week.
He warned that a ferocious "Polar plunge" of bitterly cold winds could see overnight temperatures dive to -10C with windchill in the North while the South will shiver in lows of -5C.