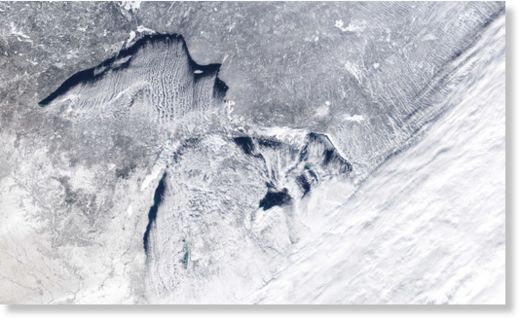 Lake Erie was less than six percent frozen last Tuesday with ice covering only a sliver of the lake's western basin.
But, after a week with frigid temperatures in the single digits, heavy lake-effect snows and high winds, Lake Erie is freezing up fast.
Nearly 60 percent of the lake waters were frozen today,
according to graphs by the Great Lakes Environmental Research Laboratory (GLERL).
Most of the western half of the lake is already under ice coverage.

In some areas - the western basin, along the U.S. and Canadian shorelines, near Long Point, Ont. and close to Buffalo - it's nearly 100 percent iced over, according to GLERL charts.

As Lake Erie iced, so too have the Great Lakes at large.

Just a week ago, more than eight percent of the surface area of all of the lakes was frozen.

But by Monday, nearly one-quarter of the Great Lakes were under ice.