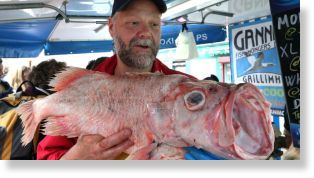 Golden Redfish commonly found off Iceland, Greenland and Norway
A long-living fish
which prefers the chillier waters of northern latitudes
has been caught by an Irish fishing vessel on the Porcupine Bank.
The golden redfish, or
sebastes norvegicus
, is prevalent in Iceland, and can be found along the North American coast, south of Greenland and along the Norwegian coast.
The 5.9kg specimen was caught by Aran islander Tomás Conneely of the
Ocean Harvester II,
a Rossaveal, Co Galway, vessel which fishes for prawns on the Porcupine.