Extreme Temperatures
BBC
Thu, 14 Mar 2013 12:30 UTC
BBC Weather's Tomasz Schafernaker has more on the recent snowy weather in central and northern parts of Spain.


---
It describes itself as the warmest corner of the British Isles ... not that you'd know it from this picture. The worst snow storms in 26 years have caused havoc on the Channel Islands this week, leaving drifts up to 8ft deep. The airport on Guernsey had to be shut for two days while more than 15,000 tons of snow were removed from the runway.
The islands caught the same storms that crippled northern France, where shoulder-deep drifts led to Channel Tunnel trains being cancelled and long queues on the M20 as lorries waited for delayed ferries. Although most of the Guernsey and Jersey snow is now melting, weather men predict another cold snap next week.
This picture was taken by Danielle Stonebridge, 21, a Guernsey resident and part- time photographer, of her father Dave, 61.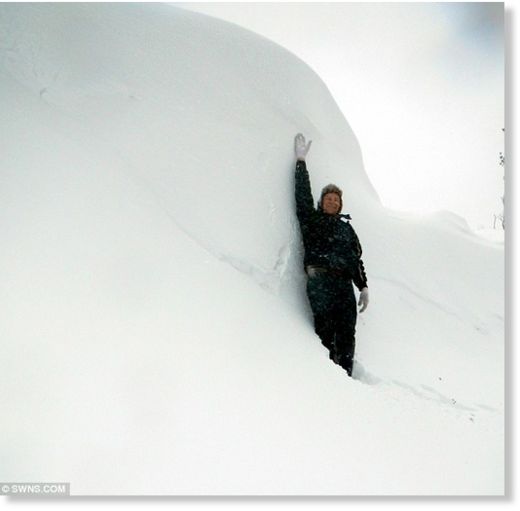 Additional images
---

Residents of Moscow are surely used to wintry weather-- but the city is bracing itself for the biggest March snowfall on record in 50 years.

Heavy snowfall started early Wednesday morning, with forecasters predicting that up to 25 centimetres of snow will fall in the next three days.

Local authorities promised to use more than 15,000 snow-ploughs to clean up the roads. The mayor's office urged locals to keep their cars off the roads and use public transport instead.

Temperatures are expected to go below minus 20 degrees Celsius in the next 24 hours. Even for Moscow,known for its harsh climate, the snowfall is unusual this time of the year.

This week, Russians traditionally mark the coming of spring with celebrations.
---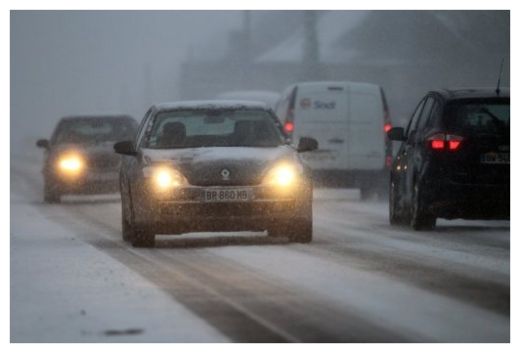 More than 68,000 homes were without electricity in France and hundreds of people were trapped in their cars after a winter storm hit with heavy snow, officials and weather services said.
An accident near the northern city of Lille involving three cars that skidded in icy conditions on a motorway left 14 people injured, including six firefighters.
Twenty-six regions in northwest and northern France were put on orange alert because of heavy snowfalls, which Meteo France said were "remarkable for the season because of the expected quantity and length of time".
Conditions were forecast to improve early Wednesday.
---
Unseasonably severe weather struck much of France on Tuesday, leaving tens of thousands of homes temporarily without electricity and paralysing travel across Europe.
Just when many in France allowed themselves hope that spring may be around the corner, a fresh flurry of heavy snowfall struck much of the country, leaving tens of thousands of homes without electricity and disrupting travel across Europe.
French weather service Metéo France put two regions in the northwest on red alert - the highest possible - and 28 other regions across the country's north and northwest on orange alert because of the winter storm, calling the snowfall
"remarkable for the season because of the expected quantity and length of time".
---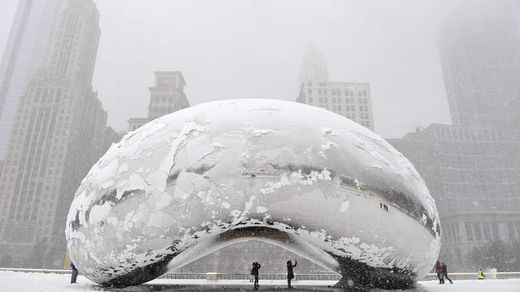 US government offices are closed as the East Coast braces for a blizzard that dumped heavy snow on Midwestern states in recent days.
Schools are shut and more than 1,500 flights cancelled at Washington DC and Baltimore airports, with up to a foot (30cm) of snowfall predicted.
Officials have warned of power cuts in the mid-Atlantic region between New England and the south-eastern states.
On Tuesday, Chicago saw heavy snowfall with about 10in reported in some areas.
---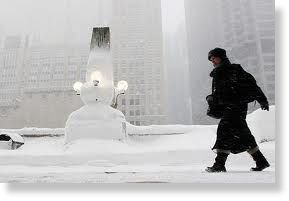 Mother Nature is apparently saving the best, or at least the biggest, for last. Chicago residents expected to find themselves in the midst of a storm that could wind up dumping as much as 10 inches of snow in the area before the end of Tuesday - the most since the 2011 blizzard and its more than 20 inches of snow. "
This will be the biggest widespread storm of the winter
," National Weather Service meteorologist Amy Seeley said. The forecast is for 8 to 10 inches throughout northeastern Illinois and northwest Indiana, a far cry from last March, which saw less than a half-inch of snow and was the warmest one on record in Illinois. Hardware stores in and around the city did brisk business Monday, selling salt and snow shovels at a time many usually turn their thoughts toward gardening and baseball.
"Everybody's got a little comment with every bag they're buying," said Mike McIntosh, who works at Dressel's Hardware in Oak Park just outside Chicago. Workers had started to stock the shelves with tools and supplies associated with spring and summer, only to find the shovels and salt they thought they'd hold for another year were still in demand. "Everybody's a bit surprised, but it's good for us, we've got a lot of this stuff to move," he said. On Monday, the system moved across the Dakotas and Minnesota, dropping up to a foot of snow in some areas and freezing rain in others. Some schools closed and officials warned motorists to stay off the roads.
---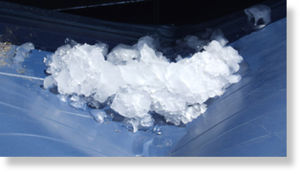 20-pound chunks of ice falling on a sunny day? It's no urban myth.
Climate experts have long warned that global warming could bring an increase in extreme weather, such as hurricanes and drought. They never mentioned 20-pound chunks of ice falling from the clear blue sky, tearing through roofs, shattering windshields, and gouging impact craters. Yet reports of such "clear-sky ice fall events" have been on the rise worldwide in recent years, and in February Spanish researchers offered further evidence that the increase could be due to climate change.
---
M. Alex Johnson
NBC News
Mon, 04 Mar 2013 00:00 UTC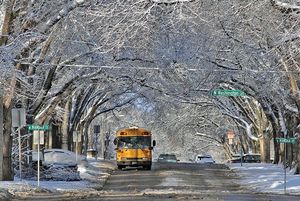 A late-winter storm was expected to gum up travel Tuesday as it crept slowly across the Central and Midwest U.S. before heading east later in the week, forecasters said Monday.
The storm was expected to peter out by the time it hits New York and Boston later in the week, but not before it creates a mess for commuters from Upper Mississippi and Ohio River valleys eastward to the Atlantic Coast.
Significant snowfall will make travel dangerous Monday night and Tuesday in the Upper Midwest, especially around major cities like Minneapolis, Indianapolis and Chicago
. The Weather Channel warned that major delays were likely Tuesday at O'Hare and Midway airports.
Chicago is expected to get its biggest snowfall of the season - as much as 10 inches by Tuesday evening. The National Weather Service said accumulation rates of one to two inches an hour beginning Tuesday morning would make "snow removal difficult and travel extremely dangerous."
"Consider only traveling if in an emergency," it said in issuing a winter storm warning for the city.
Unseasonably warm temperatures Monday melted some of the winter's snow in the Twin Cities of Minneapolis and St. Paul - just in time for a new blast of winter that could drop as much as 7 inches of new snow overnight and Tuesday.
---
Jaime Pulfer
680 News
Thu, 28 Feb 2013 08:25 UTC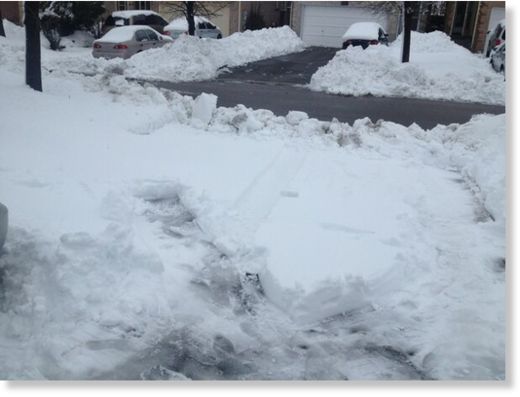 It's another sloppy drive to work and school Thursday morning as the slow-moving storm system that dumped record amounts of wet snow on the GTA Wednesday continues to hang around.
Snowfall record
Toronto broke a snowfall record for Feb. 27, according to Environment Canada.
At Pearson International Airport, 12.4 centimetres of the heavy wet snow covered the ground, breaking the record of 7.1 centimetres set in 1967.
---