Selling a new gizmo to replace a longtime favorite is always a tough job--especially if few are convinced that the original is broken. Physicist Richard Muller of the University of California, Berkeley, knows what it's like: For several years, he has been pitching a new way to drive the comings and goings of the ice ages. He's trying to displace the cherished Milankovitch mechanism in which cyclical changes in the elliptical shape of Earth's orbit shift the pattern of solar heating, triggering the buildup or melting of ice sheets.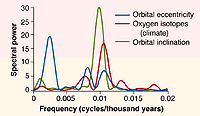 ©R. MULLER AND G. MACDONALD
Battling curves. The single cycle of Earth's changing orbital inclination (green) seems a better match to climate (red) than the multiple cycles of orbital eccentricity (blue).