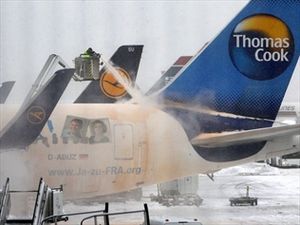 Icy roads are disrupting transport as north-western Europe remains in the grip of unseasonable weather.
The snowstorm on Monday and Tuesday, a few days before the official start of spring on March 20, caused widespread travel chaos with the cancellation of hundreds of flights and the suspension of train services including cross-Channel Eurostar trains.
The Eurostar link between London and Paris, the Thalys line between Paris and Brussels and other high-speed connections in northern France resumed running early on Wednesday, though there were delays.
After being forced to close briefly, Frankfurt Airport, Europe's third-busiest, said it expected services to progressively return to normal after 812 flights were cancelled on Tuesday.
France was the worst affected by the snowstorm but Belgium, Britain, Germany and the Netherlands also reported major disruptions.