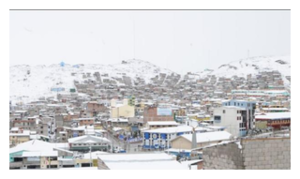 Heavy snowfall has hit the Arequipa region in southern Peru over the past few days,
El Comercio
reported.
According to the daily at least 80 homes in the district of San Juan de Tarucani were affected by the snowfall.
District Mayor Floro Choque said local residents were worried about the impact the low temperatures would have on the health of their alpacas, and said he would ask the central government for food and medicine for the 33,000 alpacas in the area.
"The snow that fell over the past three days has covered the grass in the district, and animals don't have anything to eat," Choque said.
The mayor added that the district was also lacking warm clothing for children and the elderly, as well as roofing sheets for homes.
According to the daily between 25 and 35 centimeters (9.8 and 13.7 inches) of snow fell on San Juan de Tarucani over the past few days.
The Arequipa region has seen a drop in temperatures over the past month. Last week
strong winds
led to the temporary closure of the regional airport's runway.