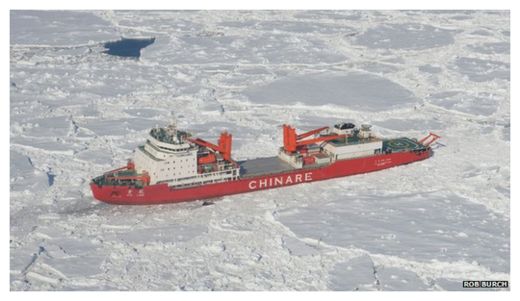 Yet
another vessel
has been trapped by global warming sea ice! The
Xue Long
icebreaker has sent out a distress call.
The Australian Maritime Safety Authority has released another
press release
:
Aurora Australis on standby as a precautionary measure

Xue Long notified AMSA at 1pm AEDT this afternoon it has concerns about their ability to move through heavy ice in the area. The Aurora Australis has been placed on standby by the Australian Maritime Safety Authority's (AMSA) Rescue Coordination Centre Australia (RCC Australia) to remain in open water in the area as a precautionary measure. The Xue Long has advised RCC Australia that it will attempt to manoeuvre through the ice when tidal conditions are most suitable during the early hours of 4 January 2014.

There is no immediate danger to personnel on board the Xue Long."
Prof Turney
tweets he is gutted
by the news. I guess he can't believe that climate warming could trap so many ships in sea ice. His communication manager
just announced
that all the new sea ice is caused by global warming, see my last post.