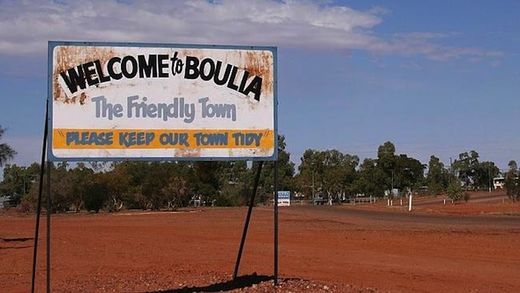 Here's how hot it is today near Boulia, a small town of 230 in the Queensland outback which locals like to tell you is halfway between Melbourne and Darwin.
It's so hot that even inside with the air-conditioning on, the floorboards are pretty much too hot to walk on. In fact, it's so hot that you can barely even tell when the air-conditioner is on.
"We have to walk outside to check," local grazier Ann Britton tells news.com.au. That's when the furnace hits you in the face.
Ann Britton runs Goodwood Station just outside Boulia with her husband Rick. It's half a million acres, give or take. Every summer's a hot summer in far western Queensland, but lately even the locals have been sweating.
Today the mercury is heading for 45 degrees, which is hotter than it has been most days. But it's not the temperature extremes that have made the last few weeks unbearable. It's the relentlessness of the heat. The fact it's there one day after the next after the next.
For 25 days straight now, the mercury has nudged or exceeded 40 degrees
. "We normally get a break," Britton says. "Not this year. The heat just seems to be really claustrophobic, a really burning heat which just saps everything out of you.
Think about that for a minute if you live in one of the southern capitals. You know how we talk about heatwaves when it's been 40 degrees for a day or two?
Well imagine it's been 40 for 25 days straight. Not only that, but it's been above 42 degrees for 10 days straight now
. Don't mean to go all
Crocodile Dundee
on you, but that's not a heatwave, THIS is a heatwave.
The Brittons say they've turned a little Mexican in their attempt to beat the heat. "We get a bit of a reprieve from the heat in the morning so we're up early and work till lunchtime. Then we have a break in the middle of the day, a long siesta, and we might not go back to work till 4 or 5 in the afternoon."