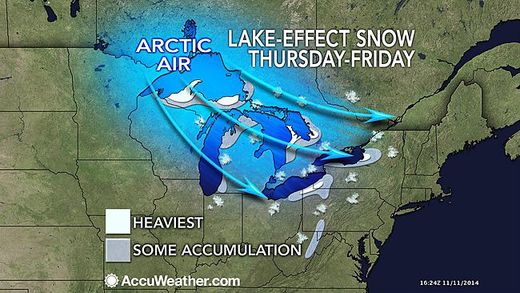 Cold air building over the Central states will expand toward the East during the balance of the week and will be accompanied by snow in some locations.
Temperatures will be slashed by 20 to 30 degrees compared to the start of this week.
High temperatures mainly in the 40s during the later part of this week will replace highs in the 60s in New York City, Philadelphia and Washington, D.C. AccuWeather RealFeel® Temperatures will plunge into the 20s and 30s at times during the daylight hours.
However, the temperature drops will not be as extreme in the East as they were over the Central states.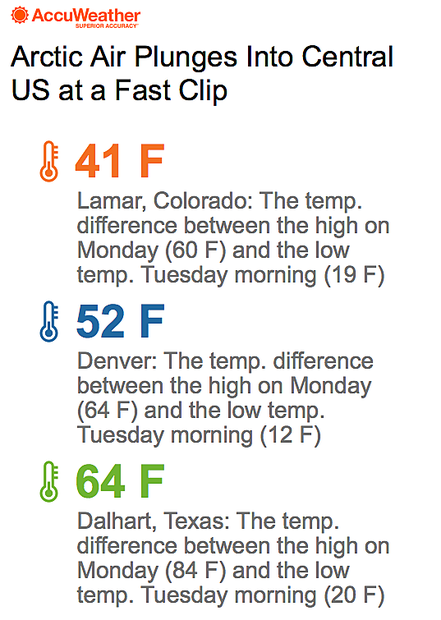 The air will get cold enough at night to bring the first freeze to portions of the South, including Atlanta, and the Interstate-95 corridor.
Unlike chilly air episodes thus far this season, this particular cold outbreak will have staying power and is likely to last well into next week.
In much of the Appalachians and many areas on the western slopes of the mountains, high temperatures most days will be no better than the 30s.
Bands of snow and flurries will set up downwind of the Great Lakes.
The first areas to experience the lake-effect snow will be across parts of Michigan and northern Wisconsin beginning at midweek in the wake of the Upper Midwest snowstorm.
According to AccuWeather Chief Meteorologist Elliot Abrams, "Some areas around the lower Great Lakes that have escaped lake-effect snowfall thus far this season will have their first accumulation later this week."