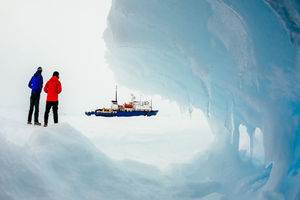 Early this morning, I received an e-mail message from one of many polar scientists whose important and costly field research in Antarctica has been seriously disrupted by the
diversion of icebreakers
to try to evacuate the journalists, tourists, crew and scientists on an unessential "expedition" aboard a chartered Russian ship.
You can read the note - from
Joe McConnell
, an American ice-sheet researcher
I met in 2004 in Greenland
- after a summary of the situation.
Of course the evacuation of the trapped ship, which will require helicopters given the impassible nature of the thick sea ice in the area, is vital. But when you consider the cost and risk attending the operation, and the impact on other science, this raises questions about the advisability of this voyage in the first place.
If you follow the discussion around
#SpiritOfMawson
- the Twitter hashtag for the project - you'll also note how this misadventure has energized climate change contrarians, offering a distraction from serious research on the impact of climate change on Antarctica.
The
Spirit of Mawson
expedition - a mashup of adventure travel, media event and science - was billed this way by organizers:
The Australasian Antarctic Expedition will truly meld science and adventure, repeating century old measurements to discover and communicate the changes taking place in this remote and pristine environment.
On
the website
, the planners included a
long justification of the trip on the basis of the science
that would be undertaken. The prime goal was a fresh assessment of ice, ocean and ecological conditions on the stretch of Antarctic coast south of Australia and New Zealand a century after an arduous expedition led by Sir Douglas Mawson did the same. In 2012, Smithsonian ran a great piece on that effort, "
The Most Terrible Polar Exploration Ever: Douglas Mawson's Antarctic Journey
."