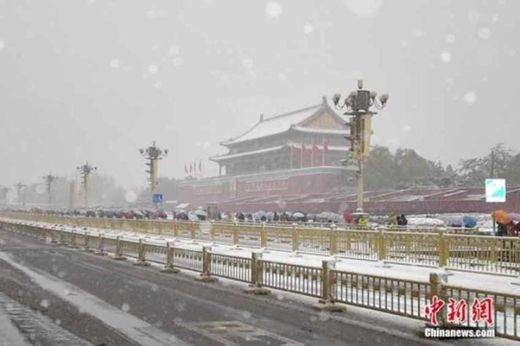 Beijing could be set to experience record breaking cold this week,
with temperatures set to drop to their lowest November levels since modern records began
, reports
China News Service
.
Northern China's coldest November temperatures on record were minus 12.3 degrees Celsius on November 30, 1970. That record could be broken however with Sunday recorded as Beijing's coldest day in over 1,000 days.
After blizzard conditions on November 22, Beijing had temporary snow again on Tuesday, leading to frozen roads and cold weather warning announcements from authorities.
Peak daytime temperatures in Beijing this week are likely to stay under zero degrees, according to weather forecasts. Meteorologists have estimated that temperatures on November 26 and 27 will hit minus 12 degrees and possibly lower.
CNN
reports that the conditions saw more than 200 flights cancelled in Beijing, as well as the closure of schools and roads.