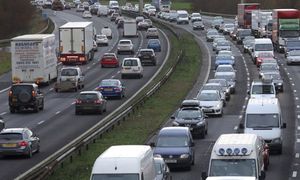 Torrential rain and heavy gales are threatening to create a hazardous Christmas getaway in many parts of Britain, forecasters have warned.
Gusts of up to 90mph are forecast in some areas on Monday and Christmas Eve, as heavy rainfall sweeps into south Wales and south-east England. The wintry showers have increased the possibility of a white Christmas in parts of Britain, with odds slashed in cities including Edinburgh, Glasgow and Manchester.
The Met Office issued a severe
weather
warning from dawn on Monday and advised travellers to brace themselves for chaos on the roads and rails.
"There is scope for very heavy rain, potentially some localised flooding, and strong winds in some areas so there is a risk of travel disruption," said Calum MacColl, a Met Office forecaster. An amber alert for rain was issued for south Wales and parts of southern England on Sunday, with conditions expected to worsen over the next 24 hours due to a low-pressure weather system swept in from across the Atlantic.
"[Monday] will start quite nicely in some places, but there will soon be heavy outbreaks of rain in the south-west of England and south Wales. That will quickly move into the north-east, and will bring gales with it."