When the National Weather Service issued a blizzard warning for the Black Hills of South Dakota region on Thursday afternoon, many of my friends and I shrugged it off. Seeing a bit of October snow in the Black Hills is certainly not unheard of, but no one believed it would be the major weather event that news outlets predicted.
Boy, were we wrong. We woke up Friday to heavy, blowing snowfall in Rapid City. Treacherous road conditions shut down schools, clinics, and part of Interstate 90. Up to 5,000 residents are without power in Rapid City, according to the
Rapid City Journal
. Widespread power outages are also being reported in Custer, Deadwood, Spearfish and Sturgis. More than a foot of snowfall is predicted in the region before the blizzard warning ends Saturday at 9 a.m.
Luckily, my husband and I have power, although our lights are flickering, and I hear tree branches, weighted from the heavy snow, cracking and crashing down as I write.
We're snuggling in today with a pot of coffee, blankets, and each other -- since I work from home and his office is closed due to the blizzard. We're just hoping that this October blizzard is a fluke -- otherwise, it's going to be a very long winter in South Dakota.
Here are photos from Friday morning: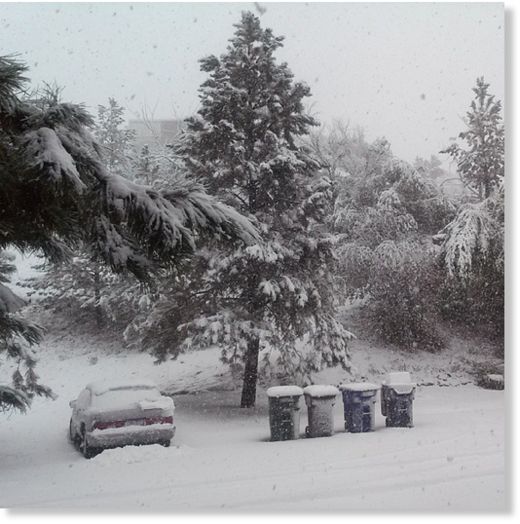 Additional images