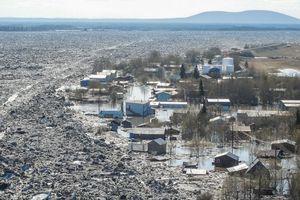 As a whole, the state of Alaska rode a rollercoaster of wild weather in 2013. Devastating floods, record-breaking heat waves and massive storms were just a few of the extreme weather events to hit the state this year. Here's a look back at how Alaska's weather affected residents, farms, and even migratory birds in 2013.
Forever winter
2013 started off with a bang, with January bringing the coldest weather of the year to the state, the National Weather Service
writes
. The Interior community of Delta shivered through the lowest official temperature of the year, at 63 below zero on Jan. 28.
Related:
Families from Galena still displaced by flooding, but holiday traditions go on
With sewer offline in flood-damaged Kotlik, residents welcome aid in form of honeybuckets
Anchorage saw its
longest snow season since 1917
, with the first snow recorded Sept. 28, 2012, and the last of the season on May 18, for a total of 232 days with snow in the 2012-2013 winter.
Winter hung on into Mid-May for much of the state, the effects of which reverberated through communities across Alaska.