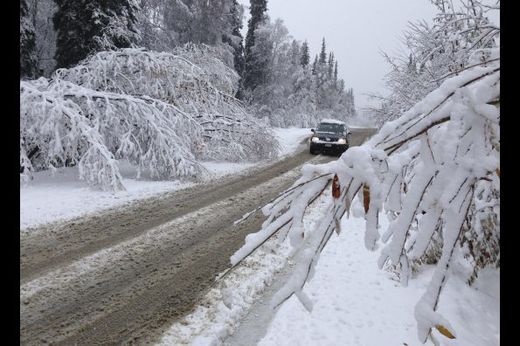 A disaster declaration was being discussed Wednesday evening by the Fairbanks North Star Borough after
snowfall caused thousands of power outages and paralyzed much of the area,
borough spokesperson Lanien Livingston said. According to Livingston, a final decision on the declaration won't be made until Thursday or Friday.
At about 6:10 p.m. Wednesday, Golden Valley Electric Association reported 7,000 customers didn't have power. A few hours later, the company said it "continued to make headway," although there were still "a lot" of trees down on power lines. GVEA had reported on Wednesday morning that
more than 20,000 people had lost power at some point overnight Tuesday as heavy snow fell.
"Due to the outages being so widespread, it is impossible to list all the streets or neighborhoods that crews are working (on)," GVEA wrote on Facebook.
In a special weather statement, the National Weather Service said
Fairbanks set a new daily snowfall record of 11.2 inches on Tuesday.
The previous record had been set in 1972 at 7 inches. NWS said North Pole accumulated 10 inches of snow, Mile 3 of Chena Hot Springs Road reported 15 inches,
South Fox reported 15.5 inches
and the University of Alaska Fairbanks accumulated 13 inches. Snow was expected to fall in Fairbanks on Wednesday night and continue through the weekend. There were no winter storm warnings in effect late Wednesday evening in any part of the Interior.
GCI reported to the borough that
"many cell towers" were down
because of the power outage, according to borough spokesperson Amber Courtney. "So that means people can't call 911 from their cellphones; they'll need to find landlines," Courtney said.